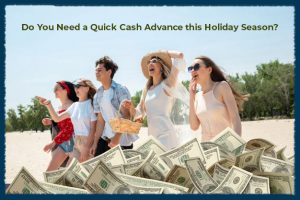 Holidays are a time to rejoice and refresh. In today's lifestyle, holidays are much-needed time, when burdens are best kept aside. However, sometimes, some burdens are simply not ignorable. If financial woes are burdening you, it might be a good idea to use a holiday and for expenses that are related to a holiday, cash advances or holiday loans can be an easy answer.
Once you understand how a holiday cash advance works, assessing whether or not you need it, becomes easier. When you look for a cash advance during the peak season around holidays, you may find a lot of loan options to be unavailable due to the rise in demand. Holiday cash advances are designed keeping the higher demand in mind and most of the renowned direct lenders would not hike the tariffs of such loans. They are designed to have short tenures and an easy application process. Today, many lenders offer such loans online which brings added convenience.
What People Use Holiday Loans For
Although there are no restrictions related to what expenses can be covered by the loaned money of a holiday cash advance, people tend to borrow holiday loans towards one or many of typical holiday expenses. These could often include:
Traveling expenses
Accommodation costs
Celebrations and parties
Shopping
Gifts and giveaways
Music and entertainment
Ascertain Your Need
How do you know whether or not you need a holiday loan? Well, the answer is simple. With a holiday season's right ahead of you or during the season itself, if you feel there's a need for funds and if you know you're going to be able to repay a loan that you take, as per the schedule, it could be a valuable solution to take a holiday loan that can help you cover some or all expenses you incur during the season. Most people choose such loans to avoid making significant compromises during their time for themselves or with families.
Getting a Holiday Loan No Matter What
Holiday loans are only worth their salt when they're easy to procure and inclusive. For this reason, at CashAmericaToday, we design our loans to be exactly that. Here are features that can help most borrowers secure a holiday loan from our service, no matter what:
Bad credit scores are welcome
Previously rejected borrowers are welcome
No hard credit checks are done
Payday loans, as well as monthly and bi-monthly installment loans, are offered
Loans are processed quickly so urgent needs can be addressed
No paperwork or faxing needed – fully online application process
The eligibility requirements are rather basic, so qualifying for the loans is also an easy task. After all, everyone needs holidays!
Apply for a Quick Holiday Cash Advance
The best holiday loan is one that's quick and dependable. With CashAmericaToday, you get both these qualities – our loans are typically given out in as little as 24 hours, and in some cases, it's much sooner too, and provided you're eligible for the loan you apply, you can rest assured you'll be funded as we provide loans with guaranteed approvals.
Applying for the holiday cash advance loans is also easy – the quick process only needs a single online application to be filled and submitted. Once we verify the eligibility, all we need is for you to read and accept our loan offer. A direct deposit is processed right after!