When one refers to the term student, the first picture that pops up in our minds is typically a bunch of school-going children, chirping and laughing away while finding their way to their classrooms. If we're told to look deeper into the idea, what we may picture may be a group of high-school students. But what about those students who have passed out of high-school, and are still studying? Yes, the ones who go to university.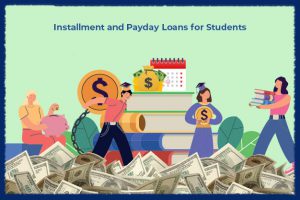 As a matter of fact, most of us study even after turning 18, of course because we wish to hold a degree in a field we love (or not sometimes), in order to grow professionally and earn. However, with many 18 year olds in the U.S. choosing to live independently at that age, they end up taking part time jobs as well. Also, there may be people who are 30 and are still studying on the side, while having a full-time job. After all, knowledge has no end to it and the current generations love being more aware about different topics and industries that the world has to offer.
That being said, there are quite a few students on this planet who do both- work as well as study; of course, everybody's situation is different. However, what if – a student who is just 18 and is working part time, or even a 40 year old who is working full-time and is studying on the side- runs out of cash for the month? After all, an emergency can occur in anybody's life, isn't it? Emergencies do not come with a warning, and having to face one can make life rather tough for anybody. If there are no savings or if one earns just about enough to be able to get through the month, an urgent matter requiring extra cash could pose a problem.
Are You a Student Looking for a Payday Advance?
If you're amongst the many people out there who needs a cash advance to cater to an urgent financial requirement, payday loans could help you seal the deal. Yes, you may be startled to read this given the fact that many lenders often deny loan applications by students, unless they are applying for a student loan. But a student who has a financial crisis not involving having to study further- say a household or a medical issue- can find it difficult to be granted a loan.
Payday loan lenders however, help you solve that problem by offering funds to those in need, irrespective of whether they are students working part-time jobs or students studying a subject alongside their full-time jobs. Yes, as long as one can prove to have a source of income, getting a loan from a considerate online payday loan lender and a legitimate one, isn't impossible by any means.
Payday Loans for Students with Bad Credit Scores
If you're a student, have no collateral to offer and also have bad credit, you shall still get a chance to get funded. When applying for payday loans online with legitimate direct loan lenders, you do not have to worry about having bad or even no credit. This is your chance to improve your credit rating, and get loans at better rates the next time you need one. Payday and installment direct loan lenders online offer funds with very simple eligibility terms which include:
Having a stable income which can be proved by an income statement or a pay stub
Providing your Social Security Number
Having a valid checking account for your lender to transfer funds into
Being at least 18 years of age
Offering your valid contact details for your lender to get in touch with you
It couldn't get simpler than this, and we're sure you'd agree- wouldn't you?
Online Payday and Installment Loans from Direct Lenders for Students
If you're a student working a part or full-time job, you may not have enough time on your hands to be able to go down to a store and apply for a loan. After all, you're already trying to balance work life with your studies, along with your household chores especially if you live independently. To make it easy for you, here's a little suggestion about how you can go about applying for a loan without having to compromise on your working and studying hours and time.
Apply online! Yes, you can now apply online for an installment or a payday loan with your lender at any time during the day that suits you.  Having to specifically take out time to get a small cash advance is a thing of the past. You can now get a loan by the click of a finger, as long as you have access to a smartphone or a desktop, and a checking account for your lender to transfer funds into.
So why wait for your emergency to get delayed further when you can get a small cash advance from an online loan lender like CashAmericaToday, who is both trustworthy and considerate?