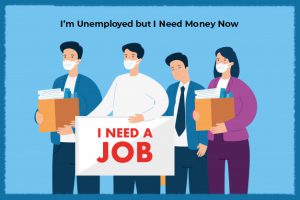 If circumstances have led you to lose your job, it could be a challenging time. But overcoming challenges is much of what has made remarkable moments in human history. Many individuals face financial hardships and look for options of getting themselves some funds to help them during such struggling times and here, we share some of the commonly used options available to unemployed individuals.
Simple Sources of Money for Unemployed Individuals
Unemployment Benefits
The government offers unemployment benefits that may help you sail through the tough times. Additionally, unemployment insurance programs are run by the state governments, which you may benefit from. Registering for such benefits can be a good start and until you find a stable source of income, it might be an essential.
Charities
Many charitable organizations such as the Red Cross, the Salvation Army – some religious and some general – offer financial and other forms of help to unemployed or financially needy individuals and families.
This resource can provide you with further information on various charitable organizations within the US.
Supplemental Nutrition Assistance Program (SNAP)
This is a federal nutrition program that helps individuals and families get resources for food and nourishment. States dictate the income and resource requirements for qualification and qualified individuals can get an EBT (Electronic Benefits Transfer) card which works much like a debit card in stores that participate in the program.
Temporary Assistance for Needy Families (TANF)
The TANF program is a time limited one that aims to assist families with children when the parents or other responsible relatives cannot provide for the family's basic needs. The federal government provides grants to States to run the TANF program.
States run the programs offering various features and benefits. Further details can be found here.
Need Money for a Cause? Consider Crowdfunding
There can be times when a need arises for a larger sum of money. For example, as an unemployed individual, you may also have lost an insurance cover and not every medical expense is covered under the federal health support schemes. In such a situation when a major and critical medical expense comes up directly onto you which you cannot pay for, chances are that a well-constructed crowdfunding campaign will help you get the funds you need. Here's more information on crowdfunding.
Getting Gig Jobs
Jobs like auditing for field marketing service providers, driving for ride-hailing or food delivery service providers and other such gig-jobs can work as a significant source of income during tough times. Getting a gig job is not too hard in the current market, so do try out such options to see what's feasible for you.
Selling Unwanted or Sparingly Used Possessions
Platforms such as Facebook Marketplace, eBay, Craigslist and even Amazon can help you sell unwanted and sparingly used items that may still hold value. Apart from helping you get funds during your tough times, this is also a way to reduce waste.
Borrowing Options
Friends and Family
You can consider taking a loan from a friend or a family member. This way, you may be able to borrow money without interest too. Many tend to avoid this option as it often leads to misunderstandings or hurts their egos. But if you're sure you can repay what you borrow, it's an option worth considering.
Credit Card Account
If you have a credit card already, chances are that it can help you sustain until you find a job. Beware however, of the fact that credit cards keep adding interest to the outstanding amount until it is fully repaid and estimating how expensive a credit card can end up being, is not always an easy task.
Cash Advances
Cash advances in the form of payday and installment loans tend to be expensive. However, some lenders don't require you to have a salary. Sometimes, this can make such advances a very risky choice.
At CashAmericaToday, we provide income-based loans. If you do not have a salary anymore since you're now unemployed, we can offer cash advances subject to you having other stable sources of income such as that from bonds and other investments.
Apply for a Cash Advance from CashAmericaToday
There's no risk in applying for a loan from CashAmericaToday – the application is free of charge and since we offer loans with no hard credit checks, your credit scores remain unaltered as you apply for our loan.
So, if you have a stable source of income, don't worry about being unemployed – we can still provide you a loan as long as you meet our eligibility requirements. Simply head to our online loan application and soon after, a customer service expert from our team shall be in touch with you, to guide you about the further steps.