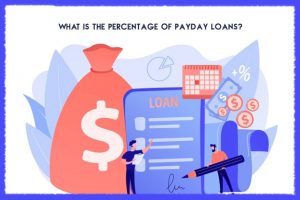 Payday loans are known to have higher rates of interest as compared to most other loans since they are short-term loans given in small amounts. If these loans had very minimal interest rates, lenders offering them wouldn't make money at all. For example, if a lender offers an interest rate of about 7%, similar to the APRs offered by traditional lenders, then they would earn only $7 for every $100 offered, which adds up to nothing at all, making it pretty impractical to start such a business in the first place.
That's why, the rates of interest on payday loans seem to be much higher than that of traditional loans.
What percentage lenders charge depend on a few factors. These factors include state laws and the lender himself. Different states have different payday loan rules and laws. Some states for example, don't allow the practice of payday loans at all. States that do, have a minimum or maximum amount that payday loan lenders may charge their borrowers.
They also have maximum loan amounts in terms of payday loans that lenders can offer. If they exceed a certain amount, they may be penalized.
Let's take a few examples:
Alabama allows lenders to offer not more than $500 at a rate of 17.5% or less.
California allows lenders to offer $300 at the max. and they cannot exceed an interest rate of 15% on the face value of the check.
Delaware allows lenders to offer up to $1000 and there is no limit to how much they may charge.
Florida allows them to offer $500 with a maximum interest rate of 10%.
Missouri allows lenders to offer up to $500 with a whopping interest rate of 75%.
Montana allows lenders to offer only $300 but with an interest rate of 36%.
Nevada allows lenders to offer any amount that doesn't exceed 25% of the gross monthly income of a borrower, and they have no restrictions on how much of an interest a lender can charge.
The above examples tells us a lot about how much of an interest rate payday loan lenders can charge their borrowers. As you can read, it varies from state to state. Some states like Arizona and Arkansas do not allow the trade of payday loans at all, while some have no limit to how much a lender can charge. Some allow lenders to offer a certain percentage depending on how much the borrower earns on a monthly basis, while others have a fixed amount that payday loan lenders are allowed to offer to their borrowers as payday loans.